[China, Shanghai, February 25, 2021] Recently, the Multi-Access Edge Computing Summit was successfully held during 2021 MWC Shanghai. At the summit, Huawei Cloud Core Network Strategy and Business Development Department President and 5G Deterministic Network Industry Alliance (5GDNA) Chairman Dai Jisheng, EdgeGallery Open Source Community Board Chairman Ren Xudong, Industrial Internet Alliance (AII) Chairman and Edge Computing Industry Alliance (ECC) ) Vice Chairman Yu Xiaohui jointly released the "Edge Native Technical Architecture White Paper 1.0", summarizing the connotation and extension of the Edge Native concept, its technical system, and industrial practice, in order to promote the development of Edge Native technology and realize the value of "Edge Computing + Industry" maximize.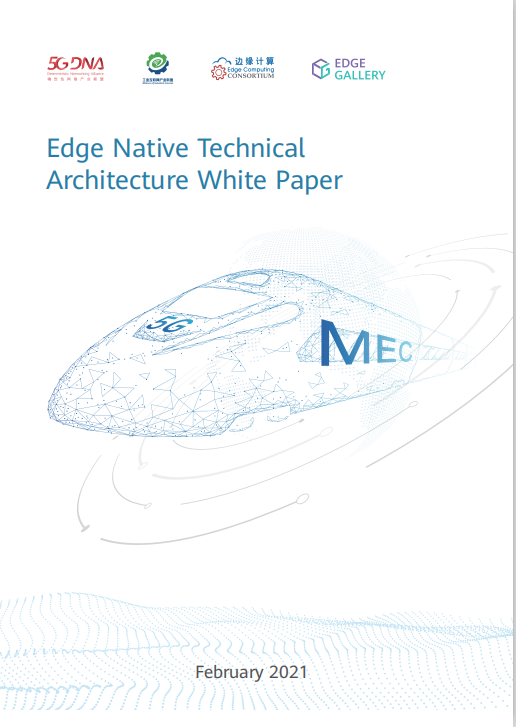 In 2020, edge computing was successively rated as the "Top Ten Technology Directions in 2020" by Gartner and IEEE, and was honored as one of the top ten technological frontiers in the information field by the Chinese Academy of Sciences and the Chinese Academy of Engineering. According to CB Insights, the global edge computing market value will reach 34 billion U.S. dollars in 2023. In the process of integrating cloud technology and moving from concept to landing, edge computing faces challenges such as network deployment, equipment capabilities, and software development, and requires a new architectural capability. The concept of Edge Native technology has solved the focus of edge computing, greatly expanded the market innovation space, and gained the common attention of the industry.
The white paper points out that Edge Native, as a technical architecture concept, is centered on connection + computing, and uses lightweight edge nodes as the main deployment method. It is a major innovation in the industry. It is a major innovation in the industry. (Cloud native) is two in one. As the ICT industry continues to shift its focus to the edge, Edge Native can solve some of the challenges that Cloud Native technology faces on the edge, such as resource consumption, network security, and edge node customization and operation and maintenance.
Edge Native includes ten edge native technologies, namely, edge infrastructure, edge network, edge orchestrator, edge collaboration, edge intelligence, edge security, edge grid, edge storage, edge framework, edge security and agile development, showing Edge Native technology The important role and empowerment path for the digital transformation of the industry and the construction of new infrastructures provides the necessary reference for the industry to promote the development of Edge Native, and is of great significance for the integration of edge computing solutions and the industry.
Edge Native's rich connection + computing capabilities provide a strong guarantee for the requirements of vertical industries such as wide pipelines, high real-time transmission paths, real-time interaction, and data security. For example, Haier's edge computing service platform combines Edge Native technology to ensure the efficient and collaborative wireless connection of industrial cameras, vision processors, PLCs, and manipulators, and assists in the full-line automation transformation of factories, reducing enterprise costs and improving product quality. Continental Zhiyuan cooperated with EdgeGallery (MEC open source community based on Edge Native) to improve the important functions of intelligent robots such as big data real-time interaction, video data intelligent analysis, and event behavior recognition.
At present, Edge Native is still in the early stage of exploration. All parties in the industry chain, including operators, industry vendors, communication equipment manufacturers, and developers are welcome to join in to jointly promote Edge Native's technical research, industry landing and practice, and enrich its connotation and extension. Assist vertical industries to successfully achieve digital transformation.
White paper download address:link